Hi everyone! Hope you're having a great weekend! We sure are! You may recall that Author/Editor/Stylist Extraordinaire, Fifi O'Neill, came to photograph our home, back in June. (You can read that post here.) Well, the new publication is on newsstands now!
The magazine is called, "Tuscan Home"; and it is filled with gorgeous, glossy pages full of Tuscan inspiration!
I actually had no idea that it was out! My BFF, Donna, picked it up at the grocery store, to read while getting her hair done. Imagine her surprise when she stumbled upon the spread of our home! She immediately called me; and I grabbed my keys to run out in search of a few copies...lol! It was so surreal to see our home in print! We have a 12-page spread that starts on page 116. These are just a few of my favorite images...
As you can see, not much of our decor was changed, with the exception of a few fresh flowers and fruit, for props. Fifi also gathered up some of my extra pillows and throws to add texture and additional pops of color.
You have seen many of these rooms, here, on the blog; and there are a couple of rooms that I don't think I've shared before.
I will be forever grateful to Fifi for selecting our home for her premier publication! She and photographer, Mark Lohman, were a joy to work with!
Hopefully, you will be able to pick up a copy at a store near you!
Thanks so much for sharing this experience with me!
Have a Great Day!!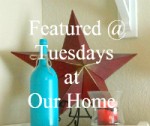 Linking to:
Savvy Southern Style-Wow Us Wednesday
The Dedicated House-Make It Pretty Monday
Coastal Charm-Show and Share
A Stroll Thru Life-Inspire Me Tuesday
Our Home Away From Home-Tuesdays At Our Home
Dwellings-The Heart of Your Home-Amaze Me Monday