One of my favorite rooms to decorate for Fall is the dining room. The warm ambiance in this room compliments the colors of Autumn; and we love to spend time here, over dinner, with friends and family. This room has a deep sense of family, from the furnishings, to some of the accents. As you may recall, the dining room furniture belonged to my grandmother; and I replaced the original Duncan-Phyfe table, with this one, that was an awesome Craigslist find. (You can read about it here.) You can also see where my grandmother's original table ended up here. I love mixing the old pieces with new.
The table is set with topiaries for everyday decor and are easily removed for dining. I love mixing colors and patterns here.
My centerpiece is a simple wood bread board that I got several months ago from Pottery Barn. I layered it with a simple votive holder, fall leaf candle ring, and a bag of mini pumpkins and gourds from Walmart, for about $2.97.
I gathered a paisley throw in the center of the table; and proceeded to build the layers. The velvet placemats were purchased at Target several years ago. (These will take me right through to Christmas.) Even though they are embellished with crystals, I layered them with rustic wicker chargers from World Market; and added simple white plates. I have had the orange leaf plates for a couple of years, from the Better Homes and Gardens collection, at Walmart. The napkins are from Kohl's. The gold goblets are another Target purchase from several years ago; and the green wine glasses are from Dollar Tree! I already had everything on this table, with the exception of the pumpkins and gourds. So, the table only cost me about $3.00 to pull together.
The setting is very relaxed...
This little accent table sits just inside the entry to the dining room, from the foyer. The tiered bowl used to be on the kitchen island. For Fall, I have moved it here and filled it with an assortment of pumpkins, grapes and artichokes.
And those are my fall touches, so far! This room will change a few times, before the holiday season. I have a few ideas swirling in my head, to add more of a French Country feel. We tried going more neutral in the family room; but, we missed the rich colors that we love so much. So, I've just decided to embrace it and run with it!
Thanks so much for stopping by! I hope you're having fun with your Fall decor!
Have a great day!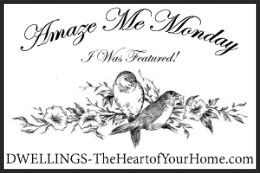 Linking to:
Dishing It and Digging It Link Party
Savvy Southern Style-Wow Us Wednesday
Ivy and Elephants-What's It Wednesday
The Shady Porch-Rock N Share
The Style Sisters-Centerpiece Wednesday
DIY by Design-Fall Into Fall
Our Home Away From Home-Tuesdays At Our Home
Coastal Charm-Nifty Thrifty Tuesday
House On The Way-Twirl and Take A Bow
The Dedicated House-Make It Pretty Monday
Dwellings-The Heart of Your Home-Amaze Me Monday
Three Mango Seeds-It's Party Time
The Tablescaper-Seasonal Sundays
Life on Lakeshore Drive-Bouqet of Talent
The Thrifty Groove-Thrifty Things Friday
French Country Cottage-Feathered Nest Friday
The Charm of Home-Home Sweet Home
Between Naps On The Porch-Tablescape Thursday
Common Ground-Be Inspired
Imparting Grace-Grace At Home
StoneGable-Tutorials, Tips and Tidbits
From Our Front Porch To Yours-Treasure Hunt Thursday
No Minimalist Here-Open House Party