Happy Friday, Everyone!!! Hope you're all having a great day!! Well, it's time to reveal the winner of the "Made In The South" giveaway.
And the winner is...
KIM
OF
LA BELLE EPOQUE HOME!!!!
Congratulations, Kim!!
Thanks so much to everyone who took the time to enter!
I appreciate your participation; and thanks to
for providing such a great giveaway!!!
Please go by and congratulate Kim on her win!
If you have never visited her gorgeous blog,
La Belle Epoque Home,
you're missing a treat!
Kim is a connoisseur of all things French;
and her blog is a treat for the eyes!!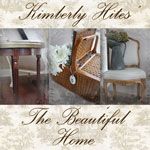 T
hanks, again, to all of you; and Have a Great Weekend!!