Well, as the month of February comes to a close, I am more than ready to transition into Spring. We really haven't had much of a Winter here; and, recently, I've been opening the windows and letting in some fresh air and lots of sunshine. I've also started to rearrange a few things in the kitchen.
As I prepare to do some Spring decorating, one of the first things that I did was throw out most of my "faux" greenery. I decided to embrace a more organic feel with live plants and flowers. I must admit, I missed the greenery initially; but now I love the look...it feels 'fresh'. I started by removing all of the greenery on top of the cabinets and the pot rack in the kitchen. I put my vintage copper pots on the front side; and the Paula Deen everyday cookware on the back side. It's very convenient for cooking.
Next, I flanked the kitchen sink with a bronze cherub and an urn filled with a snake plant and english ivy. The plant will thrive in front of the sunny kitchen window! Two bronze architectural pieces hang on both sides of the window.
Here is a closeup of the bronze cherub. Next to it, I placed my silver beverage dispenser. It is filled with lemons, for color, when it's not in use...
On the right corner of the center island, I used a large apothecary jar filled with artichokes and a large lion's head candlestick...
On the left side of the island is a matching candlestick, a rooster and my tiered, lattice fruit bowl. I will be adding some preserved boxwood wreaths to the french doors (left), leading to the home office...
To the right of the kitchen sink, I set up a small coffee bar using some of my favorite pieces of silver. The trays are stacked in a tiered plate rack...
I love these kitchen towels from Williams-Sonoma...
I also love these Italianate coffee cups. They were a Goodwill find, right before the holidays. I got 8 cups and saucers at 59¢ each...
On the buffet island, looking into the kitchen, I placed two bronze urns, at each end, and centered a cluster of bronze accessories. On the back side, I have a pair of buffet lamps. Next week, I'll be adding some Spring accents to this area.
much
more muted.)
Finally, I placed a French script urn and some green vases atop the fridge. The script matches the script on the window treatments...
And that's it for the kitchen...for now. I can't wait to add all of the Spring accents next week!!
I hope you have enjoyed your visit today!
Happy Decorating!!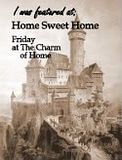 Linking to:
Nutmeg Place-Showoff Saturday
Home Is Where My Story Begins-Home and Family Friday
2805: Potpourri Friday
At The Picket Fence-Inspiration Friday
French Country Cottage-Feathered Nest Friday
The Charm of Home-Home Sweet Home
Kristen's Creations-Share Your Creations
The Polohouse-Favorites on the First
From My Front Porch To Yours-Treasure Hunt Thursday
No Minimalist Here-Open House Party
Lil Pink Pocket-Show and Share
The Shady Porch-Rock N Share
Grits and Glamour-Wild About Mother Nature
DIY by Design-Winter Blues Wednesday
Savvy Southern Style-Wow Us Wednesday
Beez Rental Designs-Frugal Treasures
Ivy and Elephants-What's It Wednesday
Type A Decorating-Anything Goes
The House In The Roses-Show Off Your Cottage Monday
Three Mango Seeds-Do It Ya Self Monday
My Uncommon Slice of Suburbia-Tuesday's Treasures
Debbiedoo's-Newbie Party
A Stroll Thru Life-Table Top Tuesday
Cozy Home Scenes-Your Cozy Home Party