Happy Monday, everyone! I hope that you had a Happy Thanksgiving! We had a fun day with some dear friends of ours...and let's just say, there was not a dull moment! We had the traditional Thanksgiving dinner...turkey, dressing, and all of the wonderful sides and desserts! Each year, we order our delicious smoked turkey from Greenberg Smoked Turkeys out of Tyler, Texas. Oprah featured them on her "Favorite Things", several years ago; and we have been ordering them since. They are fully cooked and smoked, and shipped directly to your doorstep, just in time for the holiday! All you have to do is heat and eat! The smoked flavor is wonderful!
Also, to all of you who left your sweet comments over the past few days, I fell waaay behind on my email. I usually respond to each comment; but, between preparing to host Thanksgiving and getting my Christmas decorations up, I was totally swamped. Please know that I truly appreciate every kind comment; and I am, now, back on track!
I also want to say a special "Thank You" to Diane Cayton-Hakey of The Blue Ridge Gal!! Diane has done an amazing job with my blog headers and my new button! She is truly an angel for all of us newbies out there! If you are a newbie, needing assistance with your blog, I highly recommend Diane to you!!
So, with Thanksgiving under our belts, we have moved on to Christmas. In our home, it is a 'Tuscan-Inspired' holiday, using warm metallic shades of chocolate, gold, and copper, with small hints of red and green. Today, I thought I would share my entry table with you:
The space beneath the centerpiece is reserved for party favors, when we entertain. It makes it convenient to hand them out, as our guests leave for the night. By Christmas Eve, it is the perfect spot for those "small gifts" that we like to give!
Because our normal color palette consists of warm reds and golds, the house transitions easily into the holidays. I kept my everyday centerpiece and just added chocolate and gold metallic picks and tall gold accents.
The swag overhead consists of metallic chocolate brown ribbon, chocolate and copper ornaments, beaded fruit, and stems of red berries.
On the table below, is one of the African-American Santas from my collection. This year, instead of grouping them together, I scattered them around the house. I will show you more of them, as I put up new posts.
(In the mirror, you can catch a glimpse of our family Christmas tree. We place it in the foyer, since it can be enjoyed from the family room, living room, and dining room. The reflection in the foyer mirror gives us double the bling!)
Hanging from the sconces, flanking both sides of the mirror, are tassels created by Allyson of No Place Like Our Home.
And, that's my foyer table for this year! I hope you have enjoyed your visit; and as always, "Happy Decorating"!
I am so honored to have this post featured on the following blogs. You have all been a blessing to me!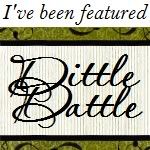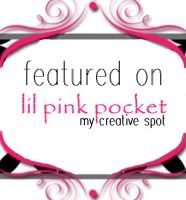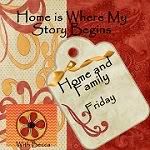 Home Is Where My Story Begins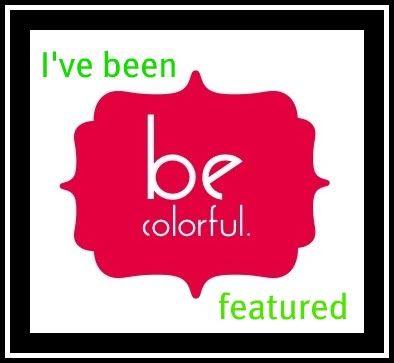 Be Colorful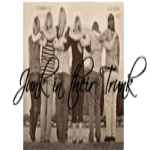 Junk In Their Trunk
Linking to:
My 1929 Charmer-Sunday's Best
Kristen's Creations-Share Your Creations
My Romantic Home-Show and Tell Friday
Chic On A Shoestring Decorating-Flaunt It Friday
Creation Corner-Friday Link Party
Home Is Where My Story Begins-Friends and Family Friday
French Country Cottage-Feathered Nest Friday
Happy Hour Projects-Freestyle Friday
2805:Potpourri Friday
The Charm of Home-Home Sweet Home
At The Picket Fence-Inspiration Friday
Tiaras and Bowties-Awesome Inspirations
Katherine's Corner
Passionately Perfect-Coffee and Conversation
No Minimalist Here-Open House Party
Southern Lovely-Show and Share
DIY Home Sweet Home-More The Merrier Monday
Junk In Their Trunk-Link It Up Wednesday
The Shady Porch-Rock N Share
Passionately Artistic
Savvy Southern Style-Wow Us Wednesday
{Primp}: Primp your Stuff Wednesday
DIY by Design-Fall Into Fall Party
Type A Decorating-Anything Goes
Not Just A Housewife-Show Me What Ya Got
The Blackberry Vine-Tuesday To Do
My Uncommon Slice of Suburbia-Tuesdays Treasures
A Stroll Thru Life-Table Time Tuesday
lvy and Elephants-What's It Wednesday Link Party
BNOTP-Metamorphosis Monday
The Southern Institute- Creative Me Monday
Colours Dekor
The Girl Creative-Just Something I Whipped Up
Dittle Dattle-Amaze Me Monday
The House In The Roses-Show Off Your Cottage Monday
You're Talking Too Much-Meet Me Monday
Debbiedoo's Newbie Party