Many thanks to all of you who participated in my mini giveaway this week!! It was a lot of fun to learn which delightful fragrances are scenting your homes! There were many candles and fragrances that I was familiar with; and there were some new ones mentioned that I would like to explore!! As with perfume and cologne, home fragrances are subjective. We like what we like!
Having said that, the winner of this week's drawing is...
Marianne...of.....Country Glamour Home!!!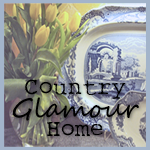 She will be receiving a sampler package of fall candles, based upon her personal preferences. Please stop by, congratulate her, and show her blog some love!
As you know, last weekend, Dear Hubby and I went thrifting at the Salvation Army, and scored some great finds! It was so addicting that, yesterday, I made a trek out to the Goodwill Store. I am excited to show you my finds next week!!
Again, thanks for joining in this week's giveaway; and Have A Great Weekend!!!