Fall is the perfect time to experiment with various tablescape ideas. Today, I wanted to explore using a color, other than the 'traditional' fall colors. I have some dinnerware that my sweet mother-in-law gave me for Christmas, a couple of years ago. The dishes have a bit of a casual Tuscan flare, embellished with grapes and cursive script. I thought they would be wonderful for a light, Fall luncheon. I chose artichoke green as my color of choice.
I thought I would use a centerpiece that I posted a few weeks back. I haven't used it in a tablescape; and I thought it would be an excellent starting point for where I wanted to go with this.
In lieu of a table runner, I used two large placemats, layered together. The placemats are artichoke green and embellished with fall leaves. As you can see, I incorporated the $2.99 Pottery Barn pitcher that I scored at the Salvation Army. It was a perfect compliment to the dinnerware.
I also decided to use the classic urns that I blogged about a couple of weeks ago. They were a "going out of business" find at Thomasville.
I also wanted to bring in a natural element, so I brought in one of my potted rosemary plants.
While outside, I also decided to bring in some of my smaller lanterns, just for a little ambience.
This is the left side of the table:
This is the right side of the table:
To add a little flair to this side of the table, I also brought in a garden ornament:
Then, I incorporated one of the other treasures that I got from the Salvation Army. Remember the stoneware platters?
I used the green platter, and filled it with artichokes. It works really well with the Pottery Barn pitcher.
I also brought the $2.99 Big Lots plates in, as well as the green Dollar Tree wine glasses:
I finished the table off with two bronze candlesticks, with artichoke green candles; and I wrapped a bronze beaded garland around each. I topped it all off with a sprinkle of fall leaves and the small pumpkins from Salvation Army.
And speaking of green...I received the Versatile Blogger Award from two very special ladies today!!
Wow! What a way to start the week!! Please go by and visit these ladies today. They are very creative; and I owe them a huge "THANK YOU" for even considering me for this award:
Helen at Helen's Decor
and happily joining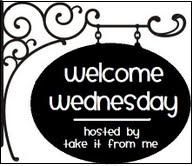 Welcome Wednesday
The Blackberry Vine
Midweek Hopalong
Linking to:
Type A-Anything Goes
A Delightsome Life-Return to Loveliness
Project Queen-Link Party
A Stroll Thru Life-Tabletop Tuesday
My Uncommon Slice of Suburbia-Tuesday's Treasures
Thanks for visiting with me today; and Happy Decorating!!